Hi Nida, thanks for agreeing to chat about yourself and what you do here at Allica Bank.
What's your role at Allica Bank and what does it mean?
I'm Head of Product for Payments… which is a bit hard to decipher if you're outside the business. In layman's terms, I'm managing the launch of our business current account, called the Business Rewards Account.
It's so far only been launched to a select few customers, however we'll be releasing it more widely soon. For anyone interested, we have a waitlist open and we'll be in touch as soon as possible!
The building process has been great and we're really happy with where we are. It's everything you'd want in a current account with some great extras, like cashback rewards and a high-interest Savings Pot.
And what does your team look like?
I manage two product analysts, Turan and Tigana, who are working on different sets of features.
Tigana's focusing on resilience and stability; making sure the product can handle high usage, and improving existing features so customers can use this as a secondary account.
Turan's focus is more on new feature development and integration to shift the product capability towards a primary account. That's things like international payments and exciting use cases of Open Banking.
Then there's Lewis, who is our Growth Manager. His responsibility is to increase product awareness, interest, and uptake.
Is your team hiring right now?
Yes and no! Not directly on my team right now, but our wider team certainly is.
Allica is structured into tribes and squads. I lead the Payments Tribe, which includes engineers and designers. We are always hiring for great engineers!
Can you explain a bit more about tribes and squads?
Of course! Our 'tribes' are made up of multiple 'squads'. Each squad is made up of design, engineering, and product team members. They're kind of self-contained units that can drop into different tribes and deploy their skills, usually made up of:
Product analyst/owner/manager: responsible for the squad's roadmap, allocating resources, and discovery and concepting.

Designer: responsible for researching the need behind the product, delivering wireframes and the final design, and optimising for user experience.

Engineer: responsible for the back-end as well as web and mobile apps, and turning the research and design into a functioning, valuable product.
While we sit within squads, we work across business lines. So if we add something, we determine the impact on finance or customer service or compliance. Squads and tribes keep us flexible and cross-functional.
What's your background in finance and fintech?
I studied law, economics, and environment at university. I thought I was going to become a lawyer, so I avoided hard mathematics… but an internship at JPMorgan changed my perspective. I ended up joining their graduate programme and stayed for nine years, across operations, relationship management, and product.
After those nine years, I wanted to be somewhere faster-moving, so I joined ClearBank. It was exciting and a big culture shock, going from a company size of 300,000+ to 300! I learned a lot in my time there with a lot of personal growth: how to manage a bigger and more experienced team and a complex product, which fuelled my curiosity, and how to operate in a lean environment. All of this was invaluable. For me it was definitely 'right move, right time, right place'.
What prompted you to make the move to Allica Bank?
All of my work in payment products before Allica had been on the back-end. The opportunity to work on a product that a customer would interact with directly was so exciting and a great opportunity for me to keep learning. I couldn't call myself a 'full' product manager without experience on the front-end!
It was also an opportunity to serve a different segment of the market, as my previous work was with large corporates and financial institutions.
You seem to have achieved a lot in a short stretch of time, what do you put that down to?
I'm naturally quite curious and open — I love learning and being in new places. Sometimes, that can mean I push myself a bit too far, but I'd say that openness to learning (also learning from mistakes!) and experimenting has helped me achieve a lot.
What was your experience of joining Allica and those first few weeks of onboarding?
I thought the onboarding journey was super smooth. I really like that the business uses a central platform for knowledge sharing. I was able to put my head down and start absorbing information straightaway.
I joined around Christmas time, which luckily for me was quiet and a bit slower, but everyone was really attentive, nice, and helpful — proactively reaching out to me and setting out time to meet with me. I was also given a list of people that I needed to go and speak to immediately to get up-to-speed.
For fintech especially, I felt the process was really well-organised.
What are you working on right now and what are the next steps?
Everything that my product analysts are working on at some point, I'm involved with. So, I help them with decisions around their work every day.
The two big features that we're working on at the moment are joining the current account switching service (CASS), which is pretty critical for helping customers move their accounts to Allica, and also adding international payments. That is a massive, massive undertaking. In addition, we continue to work on improving the existing features with user feedback.
What's next for Allica Bank and the Business Rewards Account?
We have done a full review of the product and strategy in Q1 2023, and that's set our focus for the remainder of the year. While Tigana's squad continues working through improvement of features with the aim of growing customer balances, Turan's squad is consistently adding new functionality. There's a fairly continuous stream of user testing and research going on, which is always exciting as that's the ultimate test of whether we're on track.
I'm really looking forward to the end of 2023 because we'll have a genuinely market-leading product. We're going to knock it out of the park — there is nothing quite like it, especially for the established SME market. I can't wait to see it make an impact for businesses around the UK.
And what about your life away from Allica, what do you love to do?
I've got a pug named Cumin who keeps me really busy. He helps me have a good routine to start and end the day with time outdoors.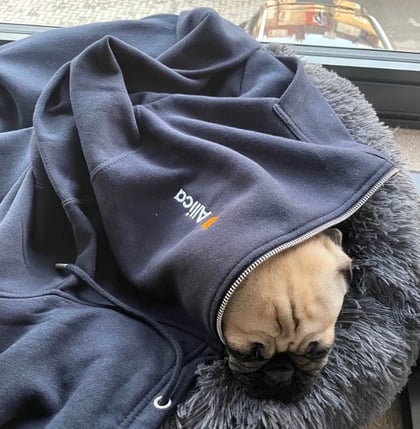 I love eating out, too, so I'm always doing foodie things in London with friends and on the lookout for any good restaurants that are opening up. I also practise yoga, exercise and meditate.
Restaurant recommendations, please!
Arcade (Tottenham Court Road) just opened up and I love it. It's a kind of food court/food hall setup, so you can book a table and then order cocktails and food from different food vendors. Perfect for when you can't decide or have picky friends!
What would you say to someone who's thinking about joining us at Allica Bank?
Allica Bank is a super exciting place to be. If you're considering it, you should apply. And if you're not ready to apply, reach out to any of us on LinkedIn as we'd all be happy to have a chat.
We're building something that every single person at Allica is behind and believes in. You can't fake that energy or phone it in. It's a special place.
Check out our careers page to see what roles are currently available.