Hi Daniel! First up, can you tell us about what a central business development manager does?
Sure! So first of all, I'll caveat my explanation by saying that my role isn't what many people would traditionally understand a 'Central BDM' role to be.
I started by looking after a portfolio of brokers across mainland UK that were new to Allica. Over time, my focus was on getting to know these brokers and educating them on what Allica can do. I would onboard them and then have regular catch-ups.
I am proud of having built these partnerships from scratch, with many now being some of our biggest asset finance broker relationships.
How did you find your way into asset finance in the first place?
I was actually a broker myself before joining Allica in February 2021, so I'm in quite a unique position of knowing exactly what it is a broker needs!
But in terms of getting into asset finance to begin with, it was pretty intentional after spending some time studying business and finance in Florida five years ago.
I came back to the UK and knew I wanted to be in banking. I then got the opportunity to join a brokerage where I learned a lot. I've since been broadening that knowledge working for Allica and seeing how things work from a lender's perspective.
It's such a rich and interesting industry and I'm always learning more!
What is it you enjoy about working in asset finance?
That's easy – it's the fast tempo at which everything moves! Some deals can be turned around in a matter of hours when a customer needs something quickly, and it's very exciting.
I also love the breadth of asset and businesses we get to deal with – everything from JCB tractors and plant machinery, to CNC machines and production lines. No two deals are ever the same!
What is it you enjoy about working with brokers in particular?
I'd say it's the diverse personalities you get to work with and the energy that brokers have as a group too.
You know, there's a real sense of pride that goes into a broker's work. They've got such drive and purpose to find the right product for their customer and it's an ethos that sits really well with me. Granted, it can be competitive – it's a competitive industry for sure. But this mainly comes about from brokers working to get the absolute best product for their customer and from trying to hit high customer expectations and demanding timelines.
What made you decide to join Allica?
From the start, I could see the potential Allica had as a relatively new fintech bank. I could really appreciate the alternative products and services that Allica was looking to bring to the market.
I could also see a huge opportunity for myself as well in terms of growth, training and development. As I mentioned before, I have a lot of asset finance experience as a broker, but this was an opportunity to build on that from the lender side.
I was also keen to contribute my experience as a broker to help inform how Allica grows and adapts.
What's it been like working at Allica?
It's been great.
Of course, it's been busy – since I started, we've been running at quite a pace. Our asset finance only launched to market in January 2021 and to begin with it took a bit of time to get our proposition just right. But, once we did, it was like turning the taps on. Now we've lent out over £100 million in asset finance loans to small and medium-sized businesses. That's in just 18 months – and 70% of that was done in the first six months of 2022!
It's created such a fantastic feeling of accomplishment within the team.
Now our focus turns to growing and scaling our teams and products. In particular, getting bums on seats and developing our technology to make things easier and quicker.
How have you found the opportunities to grow and develop?
Personally, for me, I think there's always more you can learn, and Allica has been the best company to help continue to do just that.
I am surrounded by experienced and ambitious people who I have built strong connections with and learned a lot from, both in my direct team and across other departments.
If you're someone that just wants to turn up, do a job and go home, then Allica isn't for you. We're all about helping each other and collectively brainstorming problems. This approach has really developed my sense of vision and understanding things from all angles.
What's something you're most proud of during your time at Allica? 
It's got to be the product launch I mentioned about before. But not the launch itself, it was more how we worked on it after launch to get it right, and how we listened continually to the broker community to optimise the product. From where it was at launch, to where it is now, is truly remarkable.
The proactive attitude throughout of saying 'no, it's not quite right, what can we improve, let's change it' has been inspirational.
Can you tell us more a bit more about your team?
Sure, so asset finance is essentially split into three different departments:
Business development, which is the broker-facing side. This team also includes the new business desk.
Credit, i.e. the underwriters.
Operations – where all the documents are generated, deals are paid out, final settlements are drawn up, and queries are managed.
What I would say is that even though we are three different departments, we all work extremely closely with each other. One of the best things about working at Allica is that you can call anyone at any time. You don't need to book time in someone's calendar, you can just message them in a group chat or call them directly. And that goes for management too – they are very approachable, you don't have to go through a PA!
Is there anything you're looking forward to in the coming months at Allica?
Yes! We're due to launch another product very soon, which is a 'refinance' product, i.e. for an asset that the business already owns and that they want to 'refinance' in order to unlock cash for growth.
We also have a really exciting roadmap coming up with lots more products coming down the line.
And last, but by no means least, I'm also looking forward to developing my own portfolio. I've got some really good relationships going now with brokers who have amazing potential to become leading Allica introducers. I can't wait to see that all develop.
What job did you want to do when you were growing up? 
Probably like a lot of kids, I wanted to be a footballer. But then I got an injury and quickly realised it wasn't for me. I do continue to support Spurs though!
There was also a period when I wanted to become a firefighter, but unfortunately I did a bit of research into it and found out I couldn't do it because I had asthma at the time.
Later on, as I was growing up, I worked for a high street bank. That's when I caught the bug for everything banking as I saw the buzz and wanted to carry that on.
You're given a week off and can do whatever you want. What are you doing?
If you'd asked me this even a few weeks ago, I would have said skiing in Austria or Canada.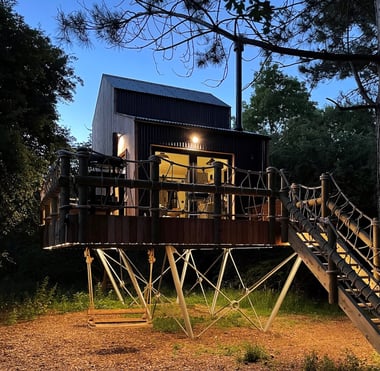 But just recently my fiancé and I went on a little 'babymoon' – my fiancé is 8 months pregnant by the way. We went to the most amazing treehous
e near Peterborough – it had a fire pit, a pizza oven, everything! It was my first time doing something like this closer to home and it was fantastic – just having time to chill out and be at one with nature.
So now, if I was given a week off, I'd go back there, or do something similar.
What would you say to someone considering a role at Allica?
If you like a fast-paced environment, then you'll thrive here.
You've got to be open to going outside of your job description and going above and beyond to help others.
It's demanding, but it's extremely rewarding working as a collective and sharing those core values and culture. Your hard work definitely doesn't go unnoticed and Allica are great at celebrating the successes!