Hi Brandon, thanks for agreeing to chat about your role at Allica, as the first Operations Trainer we've had!
You're not new to the finance world. Can you tell us where your journey began and what drew you to the industry?
It all started when I went to university and pursued a degree in psychology. I initially had plans to become a teacher, but I needed a job to support me while I travelled. I ended up working in a collections function back in 2014, which seems crazy to think about now.
I found satisfaction in helping people who were falling behind on their loans and current accounts. Coincidentally, my sister worked in a Nationwide bank, so it all fell into place. I started pushing myself out of my comfort zone by conducting training across the department, which eventually led to me getting a training position. I fell in love with the finance industry and the training aspect of it. I guess you could say teaching isn't too different to where I ended up!
You've been at Allica for three months now, when did you first hear about us?
I came across Allica about six months before I applied. I saw some roles and considered applying but life got in the way. Then, I got headhunted by Gianni Torrano, who worked in the same office block as me at the time. He messaged me on LinkedIn, and that's when I decided to go for it.
Can you tell us about your interview process?
Sure, it really was the people at Allica who made such an impact throughout my interviews. Everyone genuinely wanted the best for me. As soon as I entered the office for my interview, people from all levels spoke to me, and it felt so genuine and human. Emily, my lead, was particularly refreshing. She cut out the corporate and treated our interaction as a human conversation rather than a formal interview.
Do you remember what attracted you to Allica?
The first thing that jumps out is the office working situation at Allica. My previous job was mostly remote, but Allica has an office culture that offers freedom. In my team, we usually come into the office once a week, but the flexibility is always there.

This sense of flexibility is really important to me. I said to myself for 2023 that I am making sure I have loads of city breaks, and I took a dive literally the week before I started this role, and I went to Lisbon on my own for a solo trip for the first time ever. So that's a good sign, right? In my future at Allica I hope to take advantage of the hybrid working model more, too.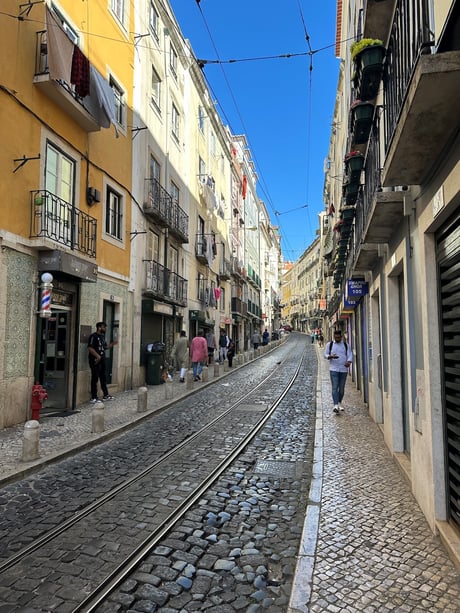 Brandon on his first solo trip in Lisbon
What were your first few weeks like at Allica?
Well organised, to say the least. I received my laptop within 10 minutes of being in the building. I had the opportunity to meet lots of the team on my own accord, which made a huge difference.
I prefer to throw myself in the deep end quickly. I was engaged in the delivery of a project on our loan campaign and savings account campaign. Although I had no prior experience with the systems or products, I had a support system of people to rely on. Within my first month, I delivered my first piece of work, which was quite wild to see.
You're the first training hire at Allica, how did you find that at first?
I received amazing feedback from leaders about how quickly I've learned everything. As the first training hire at Allica, I didn't need to question whether I was good enough. They simply told me to prove my worth, and that internal pressure was gone. I had nothing to worry about.
What was the immediate difference when transitioning from a big bank to a smaller one?
At Allica, the hierarchy is flatter, and even my manager's manager's manager would come over for a chat. Another difference is that at Allica, I have more ownership of my work. I don't need to go through multiple sign-offs for every decision. I can represent myself and own my work.
How would you describe the difference in culture from a big bank to a smaller one like Allica?
In a bigger bank, the culture often involves office politics and the need to be the loudest to get noticed. But here at Allica, I feel at ease. The culture is refreshing. I can stand by my morals and be myself without worrying about throwing anyone under the bus. It's a more authentic and supportive environment.
Do you feel like you're making more of a difference at Allica, being a smaller bank?
Absolutely. In my previous role, I felt stuck in a hamster wheel. I knew my role and department inside out, but my job satisfaction diminished over time. Being the first training hire at Allica felt like I was being trusted to make a real impact – which I still do.
What are the most common challenges you face when training people?
One of the biggest challenges in training is keeping engagement, especially when it's done virtually. Working from home has its own challenges, and staring at a computer screen for hours on end isn't ideal. But we find ways to mitigate this, such as using breakout rooms and interactive whiteboard functions to create a conducive virtual training environment.
Any funny stories from online training?
I've had my fair share of interesting moments. One that comes to mind is not from Allica (don't worry!), but during a session, someone wearing wireless earphones went to the bathroom. We only heard a flush, but it made the situation quite uncomfortable.
What advice would you offer someone looking to move into a role like yours in training?
One thing I live by is learning to be comfortable with being uncomfortable. It's about pushing yourself out of your comfort zone but being comfortable with that discomfort. Just like skiing down a slope, you're in control, but you don't want to be overconfident and end up rolling down the hill.
Another piece of advice is to be yourself and show who you are as a person. Training is not just about how you communicate; it's also about ensuring that your message is understood. Being emotionally intelligent and reflective is crucial in training roles.
Lastly, organisation and resilience are essential. Being the first training hire at Allica, I had to be highly organised. And resilience is key because not everything will go smoothly, but it's about how you bounce back.
Any advice for someone looking to join Allica?
If you're looking to work in a financial services company where you can see the results of your actions, Allica is the answer. If you want a supportive system, then Allica is the bank for you. They hire the person, not just the skills, so show who you are and what you stand for during the interview process. Not everyone fits into the Allica mould, but if it feels like the right fit, go for it. Do your research but remember that at the core, it's about showing your personality and being yourself.
Check out our careers page to see what roles are currently available.