At the beginning of each quarter, Allica Bank sends out a Broker Survey to our entire broker panel to understand how they think we're doing.
Now, we are constantly gathering formal and informal feedback from our broker partners and customers. But this survey is an opportunity to get a comprehensive gauge on different aspects of our service in a way that lets us compare it to the quarter before.
The questions are split into several different themes – such as our Introducer Portal, or a broker's experience of making a full application – and ask for a rating of one-to-five (one being 'very poor', five being 'excellent') of various metrics.
131 brokers were kind enough to share their experience with us. And below I have outlined some of the key insights we gathered from the survey, including what we're doing well and what we could improve. We will also soon be releasing some further data gathered in our survey about our broker panel's views on the state of the market, including the effect of the government's COVID schemes.
Onboarding
I was pleased to see that our onboarding process was once again rated favourably, especially as this is often a broker's first experience of Allica Bank. 97% of brokers gave overall positive feedback for their onboarding experience. While 44% rated their 'ease of onboarding' specifically as 'excellent' – the highest rating available – which was a slight increase on last quarter's results.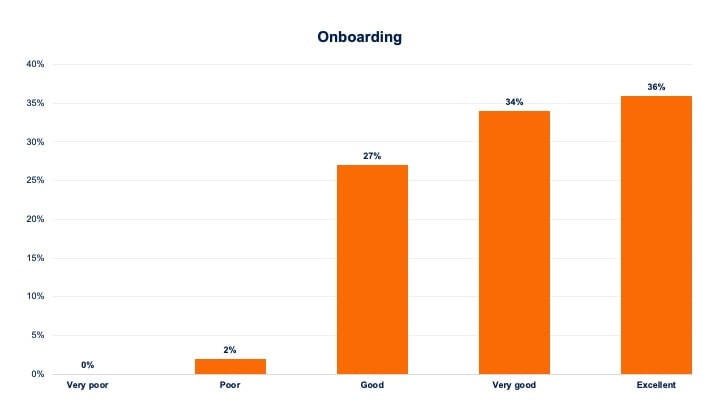 One area that stood as having room for improvement was our training processes and systems, which received a negative response from 4% of respondents. There were also notably fewer 'excellent' ratings this quarter from the remaining 96% of brokers that gave a positive response. This is something we're already actively looking into.
Introducer Portal
For our Introducer Portal, we measured 'ease of accessing', 'clarity and ease of use' and 'user support'. Being able to easily make and track commercial mortgage applications is something we know brokers value highly, so it was encouraging that all three areas were rated positively by at least 95% of brokers. In particular, the ease of accessing the portal, which 44% of brokers said was 'excellent'.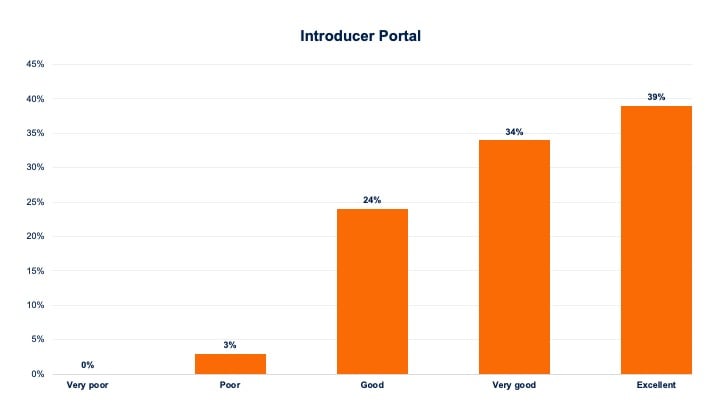 Overall, 97% of our brokers said they have had a positive experience of our Introducer Portal.
We also received some fantastic feedback on how we could improve access to the portal, such as multiple users being able to log in to the same account. This is something our tech team is looking into.
Decision-in-principle and full applications
We have made some big enhancements to our application process over the last few months in response to feedback from our brokers, including dramatically increasing our operational capacity. It is therefore gratifying to see such a positive uptick in sentiment around the decision-in-principle and full application process.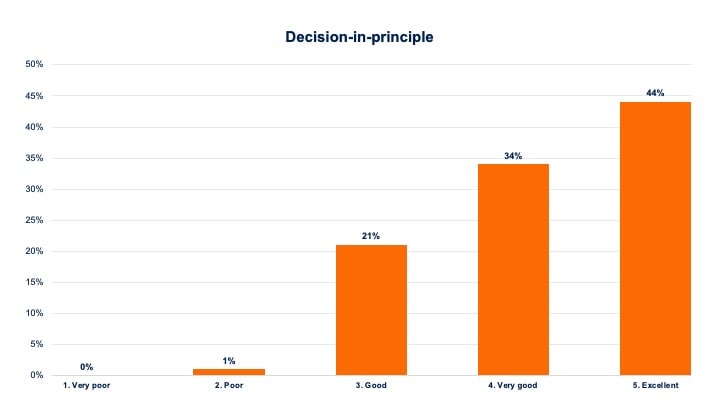 Between 40% and 50% of brokers rated the ease of submitting, speed, and consistency of our decision-in-principle experience as 'excellent'. Overall, 99% of brokers rated their decision-in-principle experience as positive – up from 96% last year.
When it comes to full applications, 81% said the ease of submitting a full application was 'very good' or 'excellent' – up from 55% in Q3 2020 – while 98% of brokers had a positive experience of our speed to offer. Overall, our full application process was given a positive review by 98% of brokers.
I am pleased to see both areas be so well-received, but there's always more we can do to improve our speed and clarity of our applications process. Just this month we have introduced a new fee structure to make this more straightforward, and we will continue to explore more ways to improve, too.
Business Relationship Management team
I am always especially proud of the feedback I get on our business relationship management (BRM) team. I know how hard they work for brokers and their clients, and it's great that it doesn't go unnoticed by our broker panel. Once again, feedback was overwhelmingly positive, with three-quarters of brokers rating their relationship with their BRM, their BRM's responsiveness, and their BRM's expertise/marketing knowledge as 'excellent'.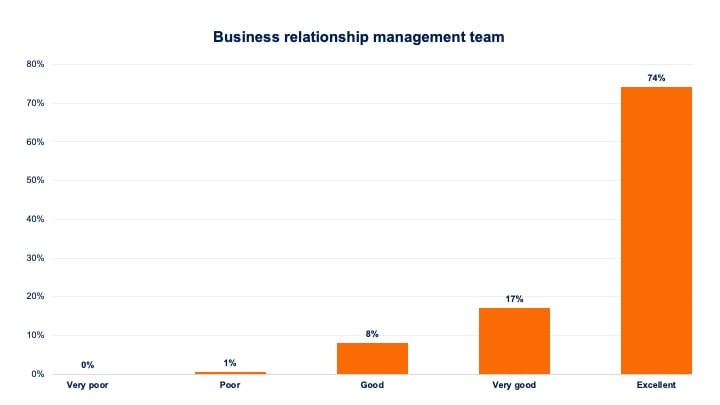 Overall, 99% of brokers reported a positive experience with their BRM. Where we did receive constructive feedback, it was clear that there is demand for a higher number of BRMs to give greater coverage of the UK. I'm pleased to say that, just this month, we have three new BRMs joining the team, who I am sure you will be introduced to soon if you haven't been already.
Overall Allica Bank experience
When brokers were asked to rate their overall experience of Allica Bank, I'm very pleased to say that 100% of our panel gave a positive response – 14% said 'good', 51% said 'very good', and 35% said 'excellent'.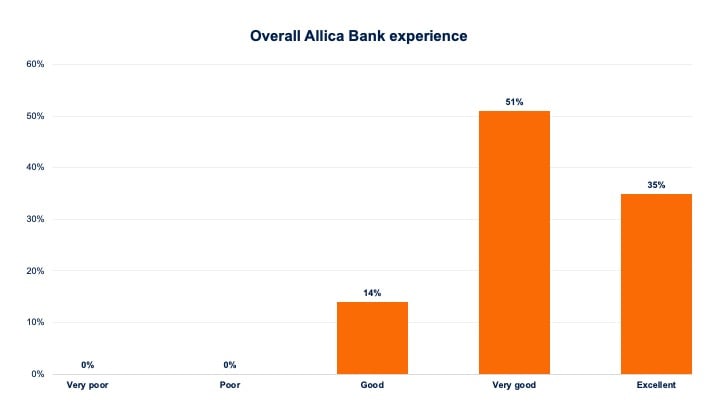 Of course, our aim will always be to achieve a response rate of 100% 'excellent', however I think it's a strong sign that we're going in the right direction for our broker partners as we look to create a broker proposition built on clarity, consistency and collaboration.
What now?
I've already outlined a number of areas that have been identified that we want to work on, while a number of changes are already underway. We will keep you updated on these as and when they get released.
Otherwise, I encourage every one of our broker partners to continue to provide feedback – good, bad or otherwise – to help us craft our broker proposition in a way that best suits your needs.
That just leaves me to say thank you to all 131 brokers that participated in this survey. I look forward to sharing the results of the next one with you!